I love reading about stylish French women.  They know how to buy.  Not just shop, mind you, but actually buy. 

Isn't she so fresh-faced and naturally stylish? Just like a Frenchwoman. 


Garance Doré (above) is one of my French style obsessions.  Here's a woman who can weed through all the riff-raff on the sale racks and excavate the treasures she'll love & wear for years and years, and still manage to look chic season in and season out. 
It's easier in Paris, non? No deep-south fashion rules to abide by in Paris.  White jeans in winter? Sure! Cashmere in summer? Why not!
So what should be on every French woman's very refined and short must-have list?  What a perfect starting point for a Winter Into Spring wardrobe must-have list, borrowed from a recent post of hers.
First – get a nude flat.
<------from black to nude----->
Switch your black flats out for your summer bronze, nude or even brown flats for a lighter look.
Next, pull out your white jeans from cold storage.
<-----from this to ------->    

Take your skinny white summer jean and hem it to right above the ankle bone.  Now you have a winter cigarette pant that will go with every bright cashmere sweater  or velvet blazer in your closet!
Now,  get yourself a trench if you haven't done so yet.

<------- to ------->

Black, tan or possibly red.  Avoid any cute-sy colors like pink or blue.  Navy would be terribly au courant, as seen on Princess Katherine here.  If you get a removable lining, you'll still be warm.
Now we move to the fitted sweater.

<-------- to -------->

Of course, it's no accident I'm showing you a white sweater!  See how flattering (slimming and lengthening) the v-neck is.  Try to avoid overstuffed slubby sweaters.  I know they're cozy and warm, but so is cashmere! This one is from 525 America and is a cotton blend for you warm-blooded creatures.
Now for the truly francais addition, a vintage YSL blouse.

  <--------- to --------->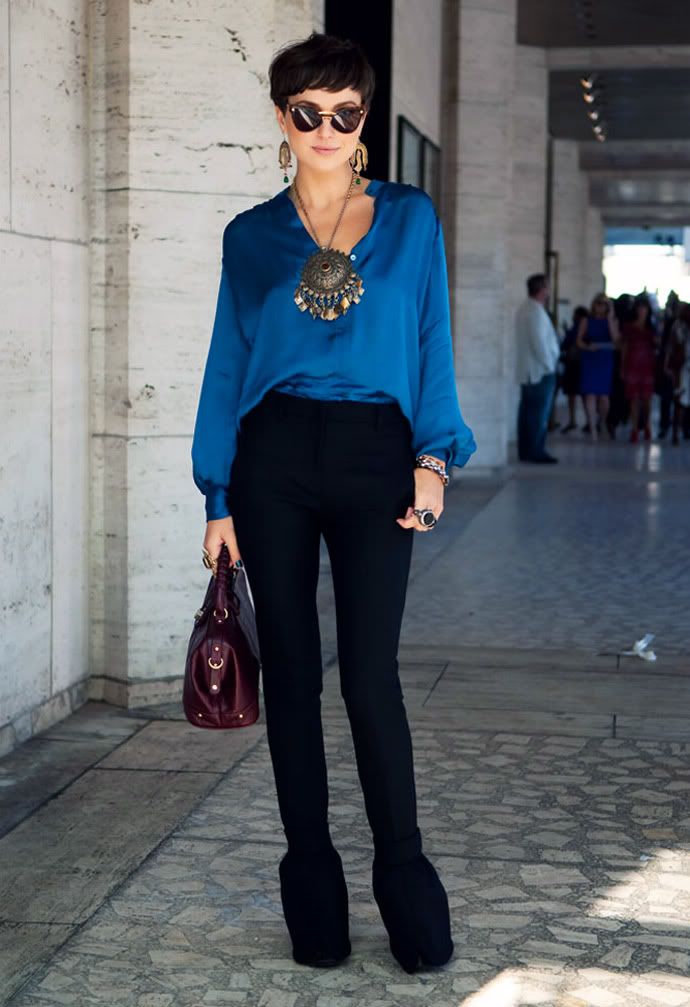 Just look for a great silky blouse and you'll be way ahead of the tired flannel winter blues.
And here's another stylish Frenchwoman- meet Ines de la Fressange (I'm brushing up on her bio before I meet her – yes, that's right, we will be meeting her in Paris shortly.  I know – can you stand it?? Click on her name to read more).
Thanks for reading. Need help tracking down your 5 must-have's? Let us help you!
We are very good at sorting thru all the riff-raff, too, and finding the perfect pieces for your life, style and budget.  Read what our satisfied and happy clients have to say on our website  and  email us here for any questions.
Happy Holidays,
Tina
all images courtesy google